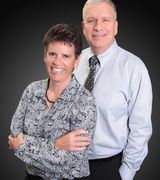 For every sale that we generate we will make a donation to either Brookes Legacy Animal Shelter an non-profit rescue group for dogs and cats or Rookery Bay Reserve which raises the awareness of the importance for our Estuaries and sealife.
Deanna was born and raised in rural Upstate New York with a love for animals and the outdoors. After college, Deanna bought and operated a dairy farm and aquired a very strong work ethic working 7 days a week, 12 hours a day. Deanna received a Real Estate License in New York in the 1980's in addition to operating and managing the farm.
Vince was born and raised in northern Pennsylvania and attended Penn State College to earn a degree in Education. Vince has bought and sold property throughout the years and managed his own personal rental properties.
We decided that life was too short so we moved to Marco Island in 1997 to enjoy the plentiful sunshine and nice weather. Since moving to Marco Island we have enjoyed the great lifestyle that Marco Island has to offer.
As real estate professionals, we are here to provide you with the tools you need to complete your home sale or purchase with ease! Our objective is to work diligently to assist you in meeting your real estate goals.

For Additional Information Click Here
Everyone has a story...
...begin the next exciting chapter of yours at Keller Williams Realty.

Keller Williams Realty is a company built and shaped by talented, driven real estate professionals who know the value of having a great career, accomplished colleagues, work-life balance, and a reputation for being the best in the business.

We focus on helping associates realize their fullest potential. You will find opportunities for growth, support for achieving your objectives and a true sense of family and belonging.

At Keller Williams Realty, your success is our goal.... Make today the day you begin the next fulfilling chapter in your life and career.

To find out more, visit www.kw.com.